Real Estate For Sale
Property Location: 3817 Severn Avenue, Metairie, LA 70002
Real Estate Type: Single Family Residential
Sold for 99% of the Asking Price!
Search for Other Homes For Sale
Since this property at 3817 Severn Avenue is sold, search for other homes for sale or contact Christie for assistance with your real estate needs.
Price: $569,900
Pictures
Javascript must be enabled in your browser to view the pictures/virtual tour.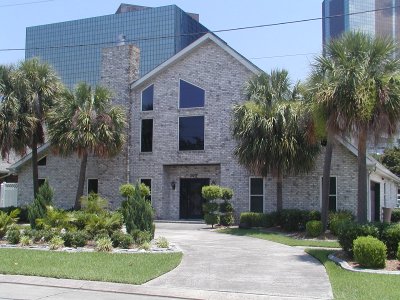 Description
This fabulous custom built contemporary home has five bedrooms, three and a half baths and is located near the lake in the heart of Metairie.  The unique open floor plan features a spectacular  living room and den combination with a gracious upper level dining space. Perfect for entertaining!  The living area boasts soaring ceilings with exposed beams, mirrored walls and a gas/wood burning fireplace that has a handsome mantel with fine millwork.  The kitchen has granite counter tops and white cabinetry.  The luxurious master suite, with its huge hedonistic bath, and second bedroom are located downstairs, whereas, the other three large bedrooms and two baths, one of which is private, is located on the second floor.  There is a spacious upper den with great picture windows that view green vistas while overlooking the living area.  The spiral staircase leads you to the game room on the third level.  There is an abundance of closet and storage space, new Berber carpet, attractive ceiling fans, recessed lighting and many windows that invite natural light throughout.  There is a lovely pool with waterfalls and a fountain, a two car garage, separate one car garage and circular drive!  Lushly landscaped with majestical queen palms and a rock garden!  Move right in to this meticulously maintained, exquisite home!
Features
Living area: 4,988 s.f.
Total area: 5,300 s.f.
Lot Size: 80 x 100
Bedrooms: 5
Baths: 3½
Parking: 2 car, attached garage and 1 car, detached garage
Additional Features
Three Central AC /Heating Systems
30 Year Architectural Shingle Roof Approx. 4 Yrs. Old
Alarm System
Two Car Attached Garage Has Double Mud Sink & Built-In Storage Space
Tall Privacy Fence
Home Approx. 16 yrs. Old
Multiple Access to Attic Storage Space
2 – Approx. 50 gallon Water Heaters
Never Flooded
Never Has Had Any Termites
Beautiful Beveled Glass Front Door
Corner Lot w/Side Entrance to Garages
Schedule an Appointment
Contact Christie today to schedule an appointment or to discuss your other real estate needs.